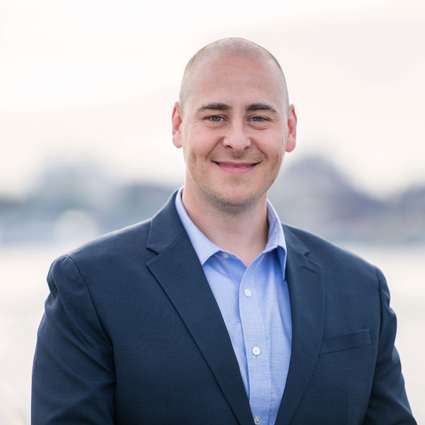 Ian Bushover
A little about me
and why I love what I do
Growing up on a farm in Central Maine, Ian Bushover understands the value of hard work and dedication. After graduating from the University of Maine at Orono with a Bachelor's Degree in Psychology, Ian was introduced to Mortgages and the impact he could make in people's lives.
Ian has now been originating for over ten years and was recently awarded Top 20 Purchase Loan Officers in the State of Maine for 2018 from a leading Nationwide Lender. As Co-Owner & Founder of Home Base Mortgage Group, Ian brings his expertise and experience to every transaction.
He attributes his prolonged success to the strong alliances with local realtors and leading real estate professionals. When Ian is not busy helping his clients he enjoys traveling, spending time with his family, attending concerts and sporting events with friends, and caring for his three dogs.
NMLS# 324863
Ian's clients are awesome
and here is what they are saying
"I literally knew nothing about buying a home or applying for a mortgage. In little less than an hour Ian explained the whole process extremely well and by the next day had me pre-qualified. From day 1 he was very helpful and even sent me a congratulatory email on the day of closing. Very good customer service and knowledgeable!"
Timothy Kiely
Wiscasset, ME
"Ian was incredibly communicative and available to discuss each step in the house-buying process. In our first conversation, he patiently went through all the steps and answered each of my questions. He was knowledgeable and friendly, and I immediately knew I was in good hands when it came to securing a loan. Ian went above and beyond to ensure I got the best rate I could for my loan at a time when insurance rates were only going up. In a process that is often fraught with last-minute complications and concerns, it was very reassuring to have a lender who was always available and quick to respond to any query."
Molly Wunderli
Bridgeton, ME
"We ran into issues and were unable to use the first lender we had been working with 10 days before closing! We got in contact with Ian and he was able to not only get us approved, but it only took a total of 15 days! He is extremely knowledgeable, friendly, and professional! Our experience with Ian was nothing short of amazing."
Conor MacEachern
Saco, ME